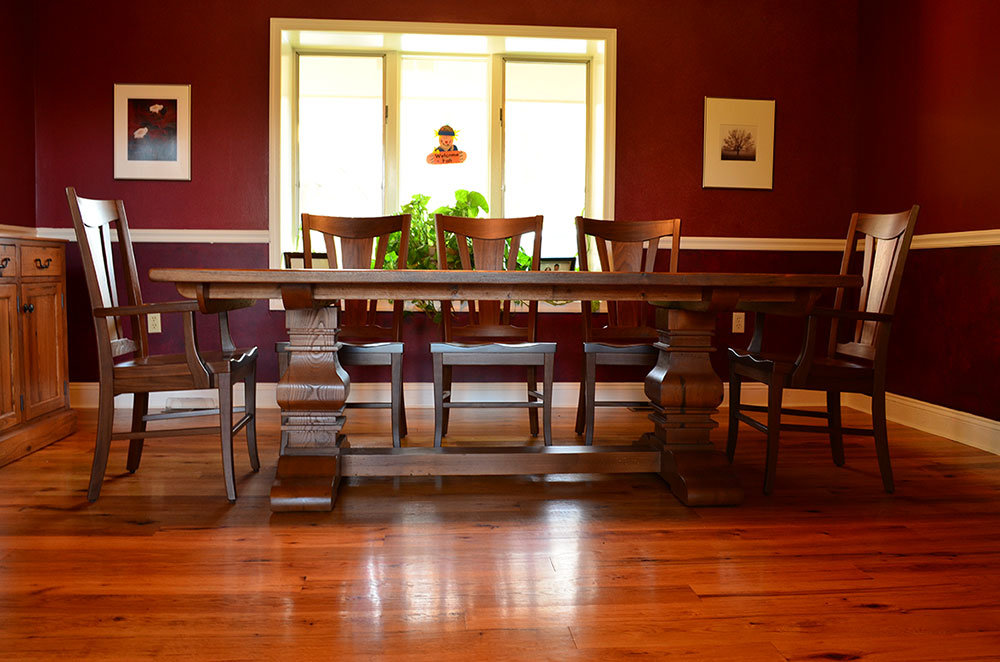 Farm Tables for the Holiday Season
There's last-minute wrapping to do and a mountain of potatoes to peel, so how do you make time for the table?  Easy.  Do it in advance and keep it simple.  The prettiest Christmas tables aren't piled with expensive china and glitzy trimmings; they are simply dressed and inviting.
Custom Crafted
The ingredients?  Warm hues, and cozy textures by creating farm tables using reclaimed lumber from barns and farm structures.  Our wood purveyor, Hunter Kelley, lovingly dismantles the barns for us and keeps us stocked with antique lumber rich in character and history.  We are certain to have a wood that will "meet your fancy."  You can design your own table from your own inspiration or have Vickie Kelley, the heart of our team, assist you with the details such as wood type, dimension, texture, color, shine, and leg style.  Then stick to natural colors and textures for the homespun Christmas look.
The Center Piece of Home Life
It is easy to rustle up the ingredients for an inviting setting.  Track down an antique blanket or burlap runner to use as a cloth, then top this with simple, warm-colored dinnerware, wooden accents, and handmade accessories.  Against this warm backdrop, add a splash of color and pattern:  some red candles or a sprig of holly berries; a pretty ribbon; a tree decoration tied onto the stem of a glass or the handle of a fork.  Then light some candles.  Nothing can create a Christmassy atmosphere better than candlelight.  Tall red tapers, and sparkly tealights cast a warm glow at each place setting or at the end of the table.
Memories Make Heirlooms
Now all you have to worry about is the turkey! It is never too late to make room for a new farm table contact our design team and schedule a session to discover the memories that lie in store for your family and a customized reclaimed wood farm table.