Wedding season is just around the corner. As soon as spring hits, millions of couples will be saying "I do" this year. In fact, approximately 6,200 couples get married in the United States every day. Weddings are joyous occasions. Lush flowers, exquisite cuisine, an extraordinary cake… who doesn't love a wedding?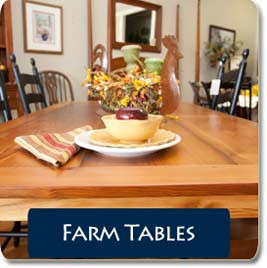 The biggest problem most wedding guests experience is what to give the happy couple. It's tough finding the perfect gift to celebrate perhaps the biggest day in the lives of two people. As the average marrying age of men and women continues to creep up in the United States, great gift ideas are getting harder and harder to come by. Instead of buying for some young twenty-year-olds fresh out of college, you are likely buying for two established individuals who have already made many important household purchases themselves. The District of Columbia actually has the highest average marrying age for men and women out of all 50 states, including Puerto Rico.
Instead of China sets, couples are registering for cocktail shakers, grills, tents, and bicycles.
So, what do you buy the couple who already has everything?
You buy them an heirloom farm table.
What is a Farm Table?
Reclaimed wood farm tables are timeless, elegant, and strong. They are keepsakes that a couple will treasure forever.  And when that couple is gone, the farm table will be cherished by another generation, and then another.  A reclaimed wood farm table is an enduring legacy, not just some present from a department store shelf.
The reclaimed wood at Shenandoah Furniture Gallery is chosen piece by piece from antique barns throughout the Shenandoah Valley and the Blue Ridge Mountains in Virginia. Each board is selected for its unique grain, color, and beauty. It is also picked for its strength.
Reclaimed barn wood is full of memories. Each knot and wormhole tells a story all its own. These tables are meant to function, endure, and beautify – just like any good marriage.
With the gift of a reclaimed wood farm table, you are really giving the custom gift of a lifetime. You can choose chestnut for the bride and groom – or maybe oak – and then select the shape, style, and finish that perfectly harmonizes with the couple's design aesthetic. Even the leg style can be customized.
A Wedding Gift That Will Never Be Forgotten
No gift is more thoughtful and special than a reclaimed wood farm table from Shenandoah Furniture Gallery. It's the one wedding gift that will never break, go out of style, or end up in a yard sale pile. What better way to celebrate the endurance of love than with a gift that is timeless?
Visit us at Shenandoah Furniture Gallery to view our reclaimed wood farm tables. Each piece has its own history and story, steeped in Loudoun County Virginia history. We invite you to come to our location in downtown, historic Purcellville to meet our craftsman and choose the reclaimed wood furniture that will become part of your family history.