Modern farmhouse style is all about creating a space that finds beauty in everyday surroundings, and encourages gathering with loved ones and enjoying the view more than worrying about maintaining it. It's a blend of clean lines, neutral palettes, and rustic charm. It mixes old-fashioned warmth with simplicity. It's a timeless décor that will make your home feel elegant and comfortable at once.
Functional and Practical
The farmhouse style reflects its origins in a rugged, practical lifestyle where furniture had to be useful and sturdy. Kitchen tables had to be large enough to do paperwork, prep food, serve dinners to large numbers of people and provide additional workspace. They also had to be easy to clean and sturdy enough to last for years.
Doors, cabinets, and storage trunks all had to serve the same purposes of being sturdy and useful. We may look at these furniture items today and think that they look charming, but when they were made, they were designed to work hard and last a long time. That's why farmhouse furniture is usually made from solid materials like wood, iron, and steel.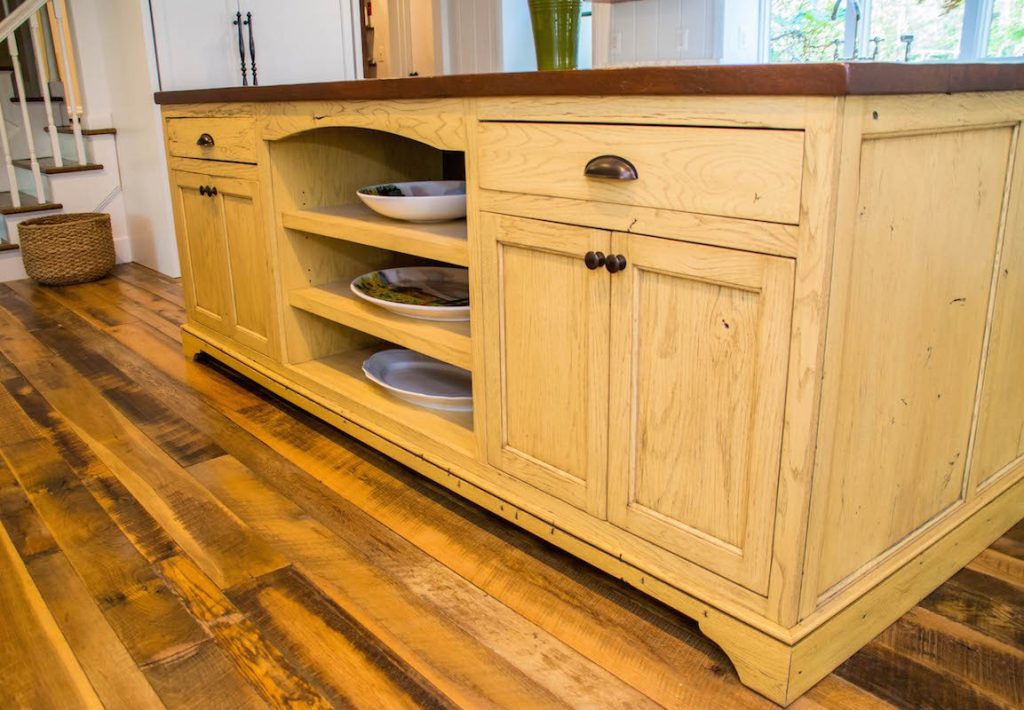 Choose Your Colors
Modern farmhouse style allows you to bring the outside in through your choice of colors and accents. When designing your color palette, keep the following tips in mind.
Start with neutral, earthy colors. Choose a base color like white, tan, beige, brown or gray. This will allow you to create a palette that you will enjoy for many years. As the seasons change, you can add pops of color with the right accents.
Choose a secondary color in another neutral shade that you'll use to build on your base color. Some people like a monotone look, but for most of us, that can get boring.
Pastels will give you more of a cottage feel and green or blue shades are better for a seaside look. For the modern farmhouse look, stick to earth-toned neutrals.
Use the 60-30-10 rule. This rule is used by designers to determine the ratio of base color to furniture to texture colors. The way it works in farmhouse style is to have 60% of your décor in your base color. That means your wall paint or wallpaper, floors, large-scale rugs, and large furniture should all be in this primary color.
Another 30% of your furnishings should be in your secondary color. This includes your lighting fixtures, smaller rugs, wall hangings, pillows, and throws. Try to keep all of these in the same color range.
Use the final 10% for adding pops of color, patterns or textures that will add interest without detracting from the main color schemes. If you're fond of bright colors, glitter, texture or patterns, use them in small amounts to add depth and sparkle. You'll create a style that's all your own.
Add modern comforts. Modern farmhouse style is about practicality. You shouldn't have to give up your modern conveniences or comforts to design a space that you love. Leave room for a sleek table to hold your television, a modern-looking sideboard, or a clean-lined sofa.
Close to Nature
Modern farmhouse style allows the outdoors to play a part in your decorating scheme. Use accent colors in soft greens or yellows to play up the outside scheme. Cover windows with sheer blinds or curtains in soft, neutral colors. Let some sunshine in. Make displays from flowers, dried twigs, and other natural materials.
Accents and Accessories
Balance the rough, sturdy surfaces and stark, modern lines of modern farmhouse style with the right accents.
Soft furnishings. Use soft textures to bring warmth to your farmhouse style. Add thick, soft pillows and throws to a clean-lined, modern sofa. Add cushions and barstools in bright, patterned fabrics. Lay a colorful rug over wooden floorboards. As long as you keep most of these furnishings in the same neutral color palette, your design will stay elegant.
Reclaimed wood. To create the soft patina of age in a modern home, think about adding rustic wood elements. Reclaimed wood is perfect for modern farmhouse style. Add reclaimed wood elements like sliding barn doors, floating shelves, ceiling beams or beam skins, countertops, cabinets, and ship-lapped paneling. These add a rustic charm that modern wood can't copy.
Iron and steel elements. Look for industrial and farming equipment that can add visual interest to your design. Iron light fixtures, tin farm pails, and other metal elements blend perfectly in this style. For a true farmhouse look, incorporate these items by giving them practical use.
Blend the Old and the New
Modern life is fast-paced and can sometimes make us feel alone and disconnected. It makes us long for a sense of the familiar and cozy.
With modern farmhouse style, you can blend the old with the new. Using a mix of reclaimed wood, industrial accents, old farm equipment, and contemporary furnishings, you can join the past to the present and create a luxurious yet lived-in style.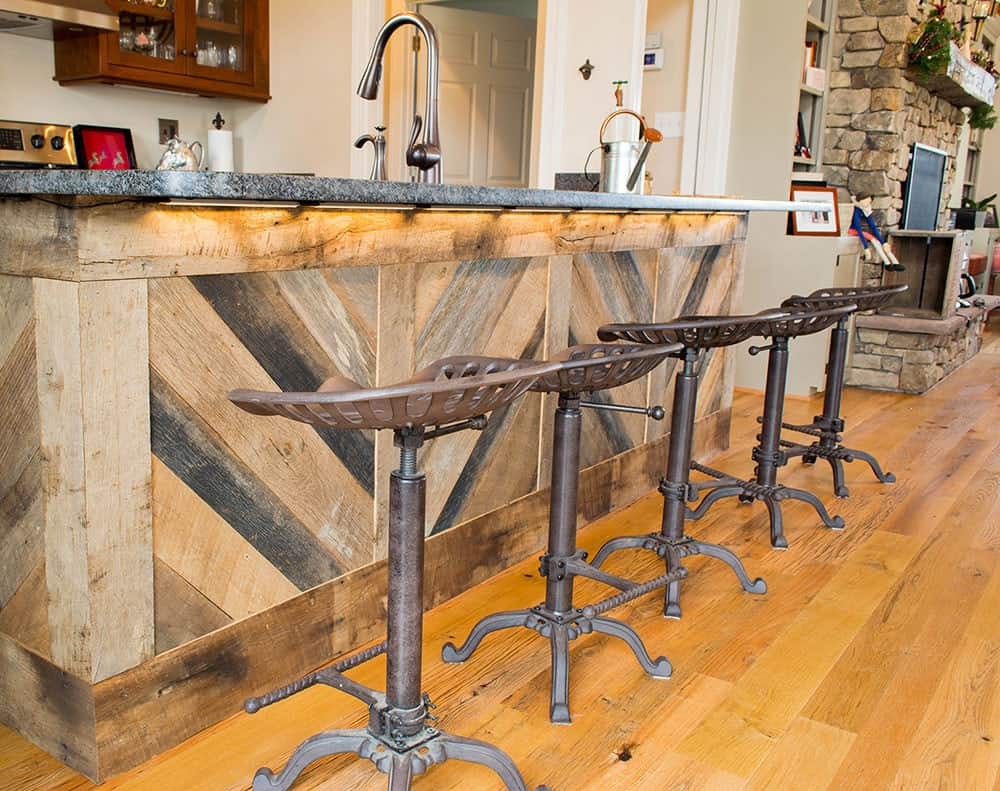 The Styles You Want at Shenandoah Kitchen & Home
At Shenandoah Kitchen & Home, we can help you carve out a slice of the simple life. We can create casual, comfortable spaces with timeless, trend-proof styles. It's warm, it's approachable and it's here to stay. You can bet the farm(house) on it! Come to see our selection of custom-crafted furniture, kitchen cabinetry, luxury-quality appliances, reclaimed wood products, and more. We offer:
professional design consultations
the finest in hand-crafted farmhouse furniture
expert installation on your schedule
one-stop shopping to create a "seamless" process and an excellent outcome
reclaimed wood countertops, mantles and ship-lapped paneling for accents walls
Thermador appliances
custom-made kitchen islands, cabinets
farm tables
reclaimed hardwood flooring
ceiling beams or beam skins
sliding barn doors
expert advice on all your design and remodeling needs
a plethora of additional accessory options
Stop in and visit our beautiful new showroom in Purcellville soon. We look forward to helping you design your perfect modern farmhouse home.