Thanksgiving Table Settings For Your Reclaimed Wood Farm Table
You now own the table of your dreams – a custom-made reclaimed wood farm table, and you can't wait to unveil it to your guests on Thanksgiving. A farm table is the foundation of the decorations, and the tablescape that you create should be a beautiful accent to the gorgeous reclaimed wood.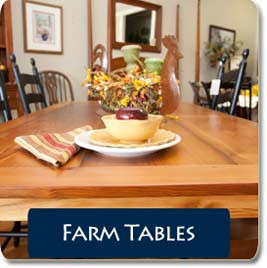 Here are four table setting ideas to show off your new farm table:
1. Warm and Rustic – Showcase the colors of the season in your linens and centerpiece. Make each set unique by mixing different combinations of vintage china, glassware, and flatware. Use formal settings with casual linens. Placecards can be as simple as using office-store hang tags hand stamped with each name. The centerpiece can be a combination of a rustic mason jar filled with lush, formal flowers and tied with a seasonal bow.
2. Natural – Take advantage of the season and bring the outside indoors. Create a muted décor in tans, browns, orange hues, and greens, relying on texture to set the tone. Keep things simple but elegant, using basic white china, modern flatware, and thin stemware. Create small and simple arrangements that travel down the path of your farm table but don't block the sight of your guests. Scatter candles along the way to warm the colors throughout your design.
3. Sparkling – Use your formal family china as inspiration, playing off a more subtle color pallet with the linens and centerpiece. Pairing the china with modern glasses and a formal placemat blends well with the heirloom china. A simple but elegant centerpiece of candles and holders, in several muted metallic shades, will make your tale sparkle but not hide the warmth of the reclaimed wood top.
4. Tried and True – Think Traditional turkey, blue and white or tan and white place settings, with traditional white linens and floral centerpieces tucked in large vessels representing colors of the season.
At Shenandoah Furniture Gallery we design and build custom reclaimed wood furniture that will enrich your holidays. Each piece has its own history and story, steeped in Loudoun County Virginia history.  We invite you to come to our location in downtown, historic Purcellville to meet our craftsman and choose the reclaimed wood furniture that will become part of your celebrations. Happy Thanksgiving!