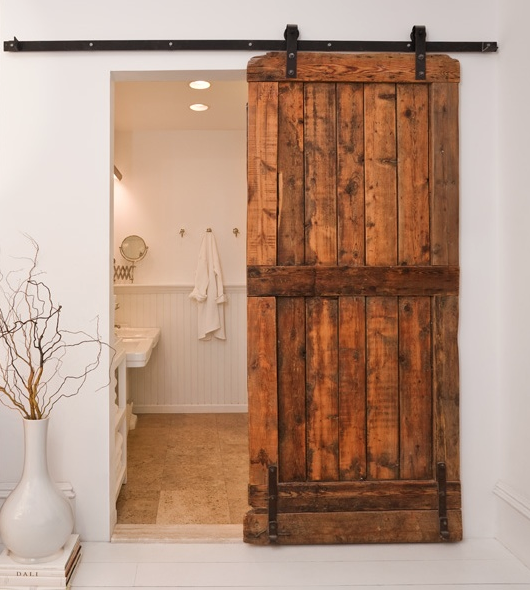 Sliding barn doors provide a unique architectural accent to any home. With their gorgeous finishes and space-saving designs, they can enhance homes or spaces of any size. The rustic features go well with almost any design aesthetic, bringing an element of warmth and beauty into every space.
At Shenandoah Kitchen & Home, we have a very simple process to help our customers fit their homes with stunning barn doors.
Come to us with an idea. This is an extremely exciting step! We love to see what customers want to do with our sliding barn doors. A door could simply serve as an accent piece on a wall, it could hide a secret bookshelf, or it could serve as a buffer between two rooms.
The possibilities are endless. Since we custom-build each barn door by hand from reclaimed barn wood, we can make any dream a reality.
Custom Designed Barn Doors
We design the sliding barn Door. We value the input of our customers. We don't have a brochure full of cookie-cutter door designs. We work with you to establish the kind of look and feel that you are trying to achieve with your barn door. If you want a more agricultural feel, we may look into crossing some boards to give the tell-tale "x" design that everyone recognizes from old barns. If you are looking for a more industrial flair, we might keep it simple with straight lines and 90-degree angles. And if you want something more luxurious, we will delve into detailed metal hardware components. Each door is handcrafted in our Virginia workshop, so you are only limited by your imagination.
Built by Design and Budget
We provide an estimate. Because every piece is unique, every sliding barn door has its own price. We will work with you to create the timeless accent you want within your budget.
On-site Design Visits
We conduct field measurements. At this point, we physically go to your home and take measurements to make sure that our design is going to fit in your space. This is a critical step for us at Shenandoah Kitchen & Home. There is nothing more important than making sure the design specifications translate flawlessly into the physical installation.
Reclaimed Barn Wood Doors
Your custom sliding barn door is built. Reclaimed, antique barn wood is selected for your door. The character of our wood is unparalleled; you can feel the history and the tradition in every knot and nick. The wood is kiln-dried to ensure that it is structurally stable and completely pest-free. Your door is assembled using traditional, time-tested methods, to meet your exact specifications.
Installation of Barn Doors
We install your door. I don't know who is more excited during this final step – us or our customers! We expertly install each sliding barn door to guarantee it is structurally sound and that it functions beautifully in its new home.
Schedule a Design Visit
Nothing says "refined country" more than a charming, elegant sliding barn door. Visit Shenandoah Kitchen & Home today to design your own piece of history.