Adding Sliding Barn Doors in Your Home
Nothing fits the warm, elegant style of modern farmhouse design better than a reclaimed wood sliding barn door. If you take that beautiful door and put it on a sliding track, you've created a versatile addition to your décor. A sliding barn door adds instant sophistication to any room.
When you're choosing a barn door, choose reclaimed or recycled wood for the warmest, authentic rustic look. An old barn door adds character and architectural detail to any decorating style.
Add the Richness of Reclaimed Wood
At Shenandoah Kitchen & Home, we specialize in reclaimed wood that we harvest from barns and old structures from all over the Tri-State area. One of our specialties is weathered reclaimed wood sliding barn doors. They are each crafted by hand and weathered by time and the elements.
These doors are full of history and charm. If you're creating a modern farmhouse design in your house, sliding barn doors are an essential element.
Why Sliding Barn Doors Are a Great Design Element
They add unmatched rustic warmth. Our beautiful barn doors add the richness and warmth of history to your home. There's nothing like authentic reclaimed wood that has completely unique colors, textures, and grain. You can't recreate the look of this wood using new wood.
They're space savers. Using sliding doors means you don't have to account for the room that a swinging door needs. They tuck away easily with a slight push, making them easy for everyone to use.
They are easy to install. Sliding barn doors are faster and easier to install than hung or pocket doors. The use of tracking means that even heavy doors can be installed without worries about stability or balance.
You can paint or finish them. Depending on the overall look you're styling, you can paint or finish barn doors to blend with it. Paint it pure white or add a pop of color. Finish it to retain the natural look. Leave it as-is to add a rough, rustic element.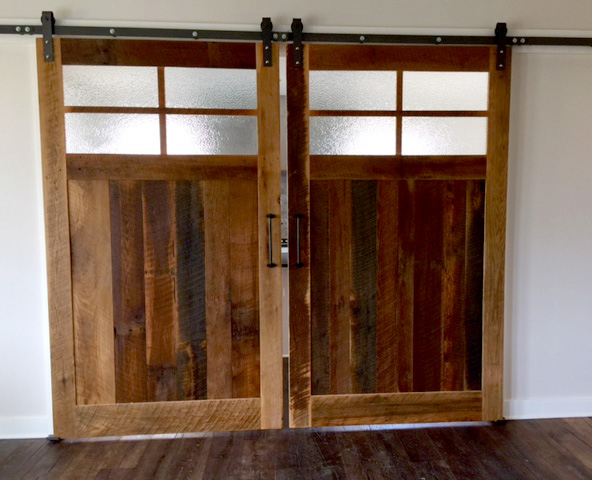 Six Ways to Use Sliding Barn Doors in Your Design
Shenandoah Kitchen & Home has beautiful barn doors for sale in our showroom. They represent every period of American history and every possible style of door.
There are many beautiful ways to incorporate our character-rich, antique wood barn doors into your design. Let your creativity soar as you consider different uses for these beautiful accent and décor pieces.
1. Hide it away. Use a sliding barn door to hide your television, computer or other devices. Sliding installation makes it easy to move the door when you want to use that area.
2. Divide the room. Use a set of sliding barn doors to set aside an office space or reading nook. When you need more space, just leave the doors open.
3. Jazz up a pantry or closet. Remove the doors from a plain closet or pantry and install a sliding barn door. You'll get an instant upgrade of drama and style.
4. Make window treatments. If you want an eye-popping change from traditional curtains or shades, try a sliding barn door.
5. Get some privacy. If you have a bathroom that feels crowded in your small master bedroom, get some privacy and a dash of style with a beautiful sliding barn door. If you have a home with a loft room, a sliding barn door gives you some privacy while preserving the open, airy feeling.
6. Create a beautiful entrance. A stunning barn door makes any entrance look great. You can install one at the entrance to a laundry room, mud room, walk-in closet or utility room. No matter what's behind it, a barn door looks stunning.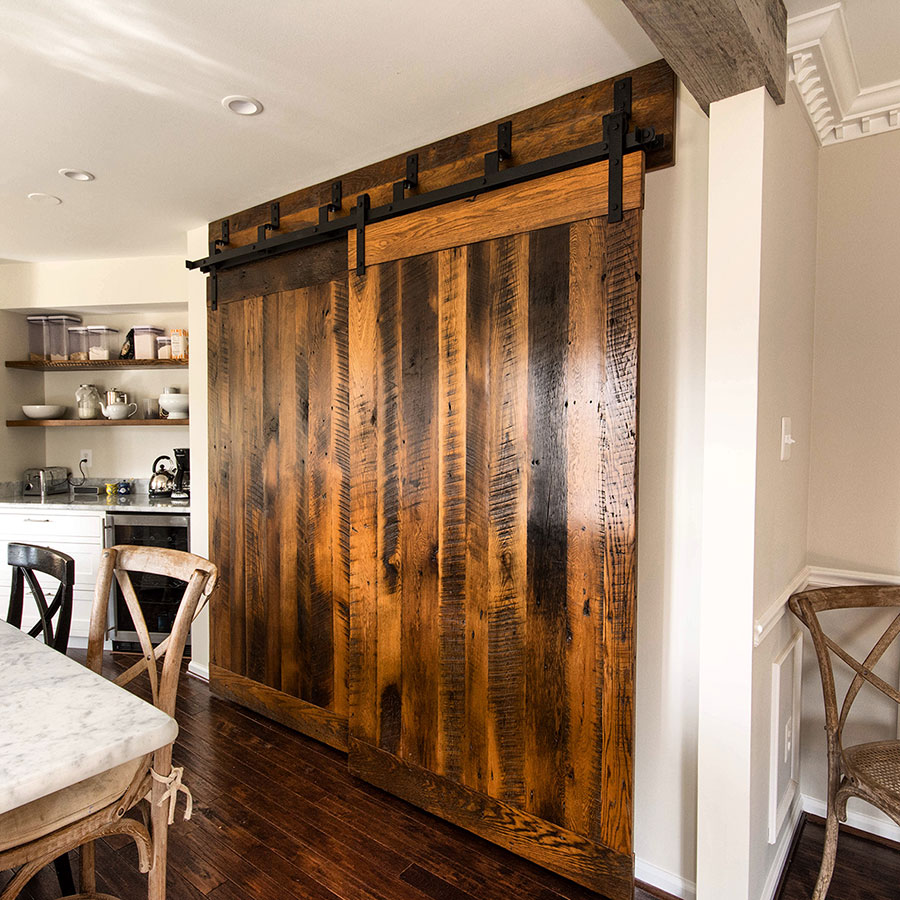 Count on Shenandoah Kitchen & Home for Quality Design and Installation
When you're ready to transform your home, count on Shenandoah Kitchen & Home for the finest in quality, design, and installation. Get inspired in our brand-new showroom, talk with our design consultants, and set an appointment for our expert installation. Get started on your dream doors by calling us or visiting our showroom today.