Designing with Concealed Appliance Panels
Concealed Appliance Panels can turn your hardworking kitchen into an oasis of beauty and serenity. If you don't like the way your appliances look, you can hide them under elegant cabinetry that blends with your décor.
The trend of hiding appliances under custom cabinetry panels has taken hold in the past decade and shows no sign of letting up. Here are some good reasons you should get in on this design trend.
Your Kitchen Deserves to be Beautiful, Too
You rely on your kitchen appliances to help you cook, serve, store food and wash dishes. They're hardworking and dependable and you'd be lost without them.
But that doesn't mean you enjoy looking at them. They're bulky, full of knobs and usually in some unflattering color. They stand out like sore thumbs in the overall design you're trying to create.
Custom cabinetry panels can make them blend into your home and make your kitchen just as lovely as the rest of your home.  Concealed cabinetry allows for greater expression of your personal taste – and not just another appliance showroom.
1. Make Your Kitchen an Oasis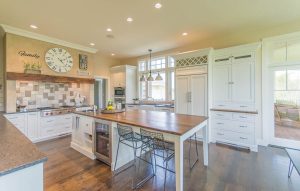 More appliance surfaces just mean more surfaces to clean. All too often, random objects land on the tops of refrigerators, stovetops, fridges, and oven handles and all over the counters. Are you tired of finding old calendars, fridge magnets, kitchen clothes, and everything else where it's not supposed to be?
Get custom cabinetry panels and you'll be able to keep those appliances clean, uncluttered, and tucked neatly away. Random items will have to be stored and organized elsewhere. Custom cabinetry panels will keep everything neat and tidy, making your kitchen serene and well-organized.
2. Clean, Minimalist Design
If you long for a serene, uncluttered look, you will love the ability to hide your bulky appliances under a seamless row of cabinets. With the knobs, levers, parts, and ugly surfaces of your appliances hidden away, your kitchen will become a shining example of minimalist design.
Even if you like a little more color in your design, it's easier for your few select pieces to stand out if they're not competing with messy, bulky appliances. Make everything clean and easy with custom cabinet panels.
3. Make Cleanup Easier
No matter what you use, it's impossible to keep those fingerprints and other stains from your appliances. Enamel appliances are grease and food trappers. Chrome is a magnet for fingertip stains. Many people who once enjoyed the sleek surfaces of their chrome appliances are now fed up with the constant cleaning.
If you're tired of catching sight of all those stains and prints, and tired of spending time scrubbing them, you'll be relieved when you get custom cabinets. These are usually made of a treated surface that resists stains and is easy to clean.
4. Match Your Décor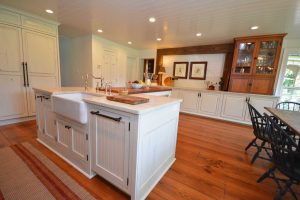 Stainless steel may be all the rage if you want a super-modern style, but what if you don't? Some people just don't like the hard, industrial look of stainless steel. What if you have a farmhouse table or rustic wood floors?
If you're aiming for a cottage, farmhouse or rustic style of kitchen, you're definitely put off by ultra-modern, sleek appliances. At the same time, you probably don't want to give up the convenience and amenities they offer. With concealing custom cabinetry panels, you can have warm hominess and up-to-date technology in one.
5. Hide Your Messes
Nobody wants their trash cans, recycling bins, and pantry items out on full display. When integrating custom cabinetry panels, you can keep your personal and family business is hidden away. Custom cabinetry panels mean your kitchen always looks neat and presentable.
6. Up Your Home's Resale Value
Clean, streamlined kitchens with hidden appliances are at the top of many homebuyers' wish lists. Real estate agents will tell you that outdated kitchens and bathrooms are the top turnoffs for most buyers. Your beautiful kitchen will stand out as a major selling point. Buyers will appreciate the customization of your kitchen and the clean, updated look it has.
7. Get More Storage
It's time to think beyond the kitchen when you think about custom cabinetry. You can use cabinets to disguise refrigerators in your home bar area, bedroom or office. They'll give you extra storage that's also discreet and attractive. Install custom cabinet panels anywhere you want a clean, streamlined and elegant look.
Call the Kitchen Cabinet Experts
At Shenandoah Kitchen & Home, we can create beautiful kitchen designs and customize your cabinetry to fit your space and personal taste. We can blend with your décor and create an elegant look in your kitchen. Call us today to schedule a design consultation or visit our new showroom in Purcellville. We look forward to planning with you!