A Kitchen Range Hood made from reclaimed barn wood brings a unique custom touch to your kitchen remodel and it is something that you may not have thought could be designed and built out of reclaimed barn wood. It is just one of the many items that you can add to your kitchen from Shenandoah Kitchen & Home. You can see many more ideas in our online gallery.  The possibilities are endless and if you want your kitchen to outshine your neighbor's,  you need to consider some of our options.
Shenandoah Kitchen & Home has heirloom-quality pieces that will stand the test of time.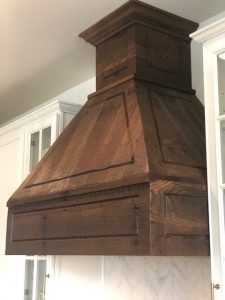 The best way to explore the options is to set up a 1 to 1 appointment with one of our designers to see how we can add these custom touches to your plans.
Many people come to us for our farm tables, but we design and build so much more than farm tables! We design and handcraft kitchen range hoods, flooring, custom cabinets, office furniture, bar stools, chairs, fireplace mantles, and even countertops. They are all crafted from environmentally-friendly reclaimed barn wood!  We custom design and custom fabricate every Kitchen Range Hood. We custom sand it to the texture of your choice. They are then finished with a stain of your selection. We carefully help you select the one that is perfect for your kitchen and stove. We know that for years to come, this unique item will lead to many compliments and accolades for the interesting touch it will bring to your new kitchen.
The Kitchen is the gathering spot for your family
We all know that family and friends like to gather in the kitchen. It is the hub of any home. There is no better place to invest in a truly custom remodel than your kitchen. These touches, from custom cabinetry to a Kitchen Range Hood can soften a modern kitchen remodel and make your kitchen feel like home. Kitchen remodeling trends for 2020 and beyond recommend that you use modern kitchen appliances but custom touches like reclaimed wood to give your space a warmth and genuine feel.
Families are spending more time at home and that means more time in the kitchen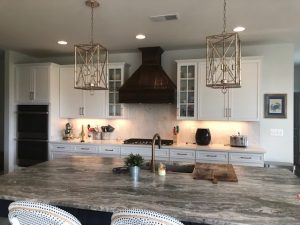 Now more than ever before we are spending more time at home with our families. Shenandoah Kitchen & Home can help upgrade your kitchen and home and make it a place that sparks joy. Making meals for your family and friends will be a pleasure. That kitchen space where everyone gathers will have a new custom touch. It will make you want to cook, conduct distance learning sessions, and just enjoy being together. We strive to exceed expectations. We know that you will be happy with our services and our custom heirloom quality furniture pieces. If you're interested in learning more about us, fill out the form below for more information. We carefully select materials to craft a one-of-a-kind reclaimed wood kitchen range hood that you will not find anywhere else. Give us a call today at (540) 751-2163!