Adding Texture and Patina with Wooden Countertops
Texture and patina can express your personality and make your home all yours! Nature can always be trusted to bring its richness into your home's kitchen design and a good place to start is your countertops. At Shenandoah Kitchen & Home, we fabricate and install beautiful, natural wood countertops that will be the foundation of any modern farmhouse design.
We primarily use reclaimed wood that comes from barns and other outbuildings that are part of Virginia's history. This wood has that unique patina that comes from age, the elements, and history.
Designing with Wooden Countertops
The Modern farmhouse style is a blend of natural elements such as wood, stone, metals, glass, and fabrics along with rustic touches. It's a comfortable, lived-in look that is also clean and bright.
Why Wood is the Best Choice
Wood adds a classic, natural beauty. The warm, rich look of wood is a classic choice that blends with any style.
It's a sustainable choice. Wood is one of the most sustainable building materials. If you choose our reclaimed wood, you're giving old wood a new life.
Wood has natural antibacterial properties. Wood naturally resists germs and rancidity. As long as you use the correct oils or varnish to finish and protect your wood, it will retain that property for most of its life.
It is durable. Wood is long-lasting and strong. With the proper care and the use of specialty wood finishes, you'll be able to enjoy the beauty of your wooden countertops for many years to come.
Protective Finishes
At Shenandoah Kitchen & Home, we recommend two all-natural finishes for our handcrafted wood countertops. They'll keep your tops protected and provide a subtle glow to the grain. The two that we recommend are:
• Emmet's Good Wood Stuff Finish: an excellent finish that you apply monthly to keep wood conditioned.
• Conversion Varnish: a longer-lasting finishing product that is available in flat or dull shine options.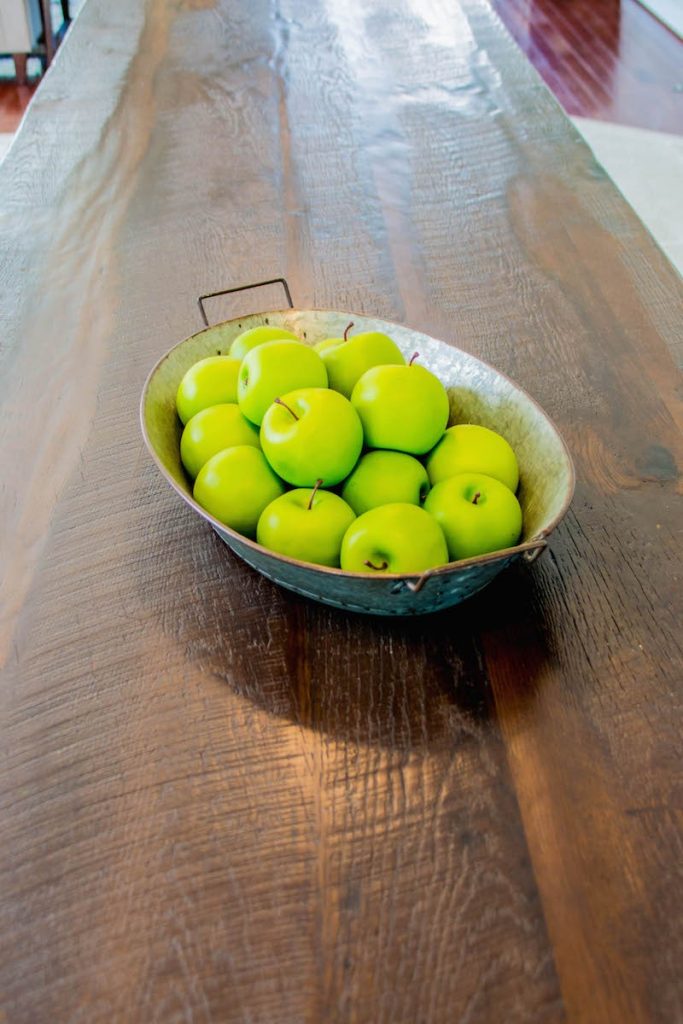 What's the Difference Between Face Grain and Edge Grain Countertops?
Woodworkers generally refer to three types of wood grain when discussing which type of wood to use for a project.
Face grain: This is the face of the wood that shows its grain, shadings, and character. Face grain is normally used for tabletops, cabinet doors and other furniture where you want to see the wood's character.
Edge grain: The edge or "thickness" of a plank of wood. Edge grain wood is generally thicker and more durable. It has a slightly rougher surface and hides knife marks better than face grain wood does, making it a good choice for countertops that get heavy cooking use.
End grain: The wood at the end of a plank. End grain wood is not usually used to make furniture, but it is sometimes used to make wooden floors.
At Shenandoah Kitchen & Home, we make countertops out of face-grain wood. The choice depends on the look you're aiming for as well as practical considerations. This grain will give you a rich, luminous look.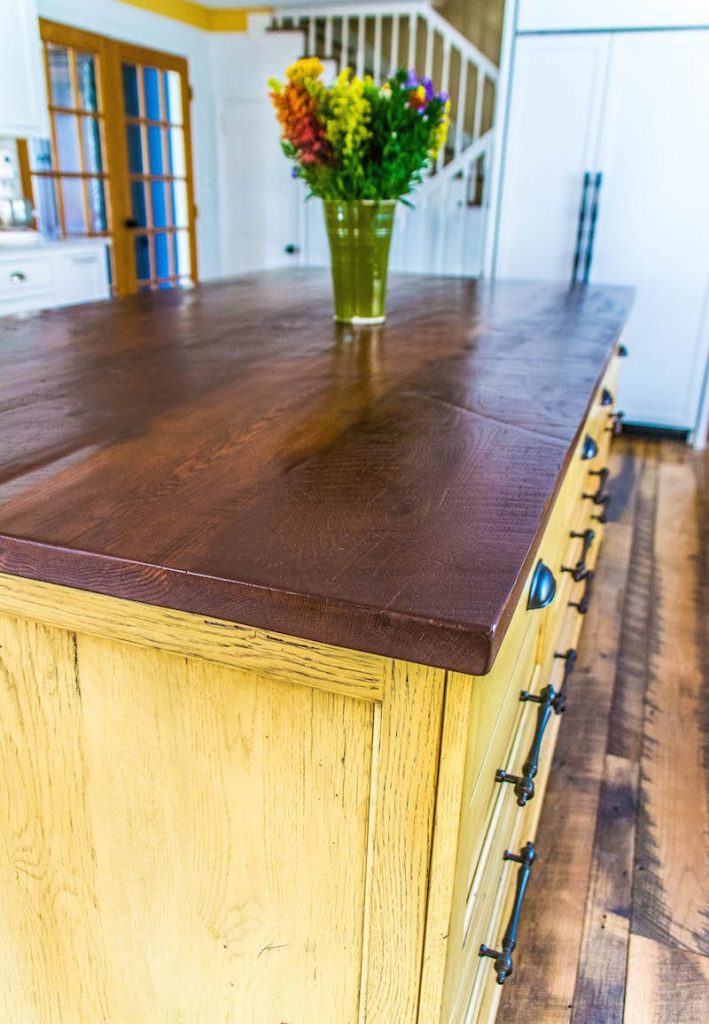 Applications and Options
Add rustic warmth to any design by incorporating these handcrafted countertops. Don't limit yourself to the kitchen. You can add wooden countertops to your vanities, kitchen islands, tabletops, home office, shelves, butler's pantry, and other applications. If you need inspiration or ideas, stop by our new showroom and look at some beautiful ideas.
We can add custom features to every countertop, including:
• Cutouts for ranges and cooktops.
• Drainboards.
• Knife slots.
• Edges and cutouts to fit around sinks.
• Juice grooves and waterfalls.
• Cutouts for trash cans.
• Insets for electrical outlets or pop-up charging stations.
Caring for Your Wooden Countertops
Clean up any spills right away, especially if you spill something acidic like vinegar or lemon juice.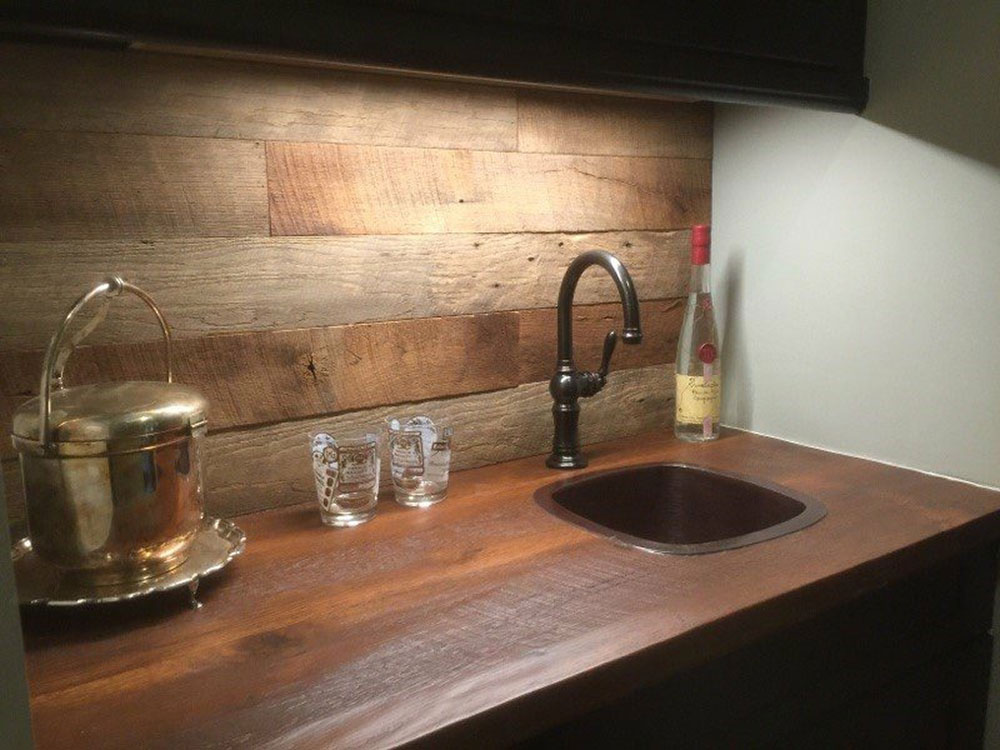 Never use harsh cleansers or metal scrubbers on your wooden countertops. Use mild soap, warm water, and a soft cloth to clean stains. Regularly apply a protective oil to your wood if it was not originally finished with a conversion varnish finish.
Buy Locally
At Shenandoah Kitchen & Home, we take pride in reclaiming local wood that was sustainably sourced. We know exactly where each piece of wood comes from and can tell you its history. Our local craftsmen use traditional, artisanal woodworking techniques that reflect the great heritage of our state.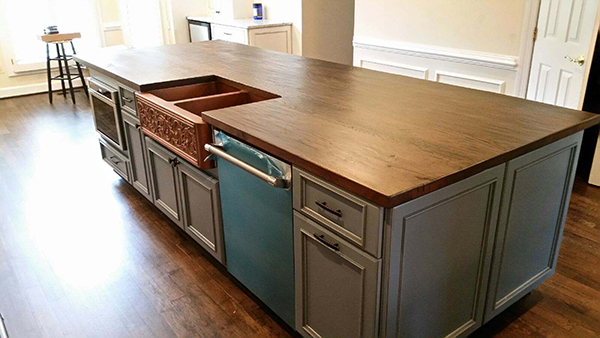 Design and Installation
At Shenandoah Kitchen & Home, we create beautiful kitchens and living spaces every day for our customers. You can see our work on our website and in our showroom.
If you already have your own vision of how you want your kitchen to look, we work with you to make that vision a reality.
Our expert installation crew works with your schedule and your needs to complete every job to your satisfaction. We provide everything from the initial design consultation to efficient, expert installation.
Get the Look at Shenandoah Kitchen & Home
If you want to be inspired by the many design options for your kitchen, stop into our new showroom in Purcellville. We'll be happy to help you design a kitchen in a modern farmhouse design or the style of your choice.