How many times have you heard this? "Every time our family and friends get together, somehow everyone winds up in the kitchen!" It's true, some of the most memorable family times happen in the kitchen, around a huge table loaded with goodies. Shenandoah Kitchen & Home helps create custom kitchens with our handcrafted cabinets, islands and tables. What better time to enjoy this than in the fall?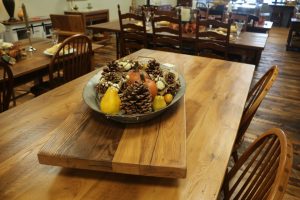 Find the Perfect Farm Table
The holidays are right around the corner. We create dream custom kitchens by building and installing our reclaimed wood cabinets and islands. When you're sitting down for your holiday meal, why not enjoy it around one of our farm tables? Our tables are made to celebrate life's special moments. So if this is where everyone gathers, it needs to be the highlight of your house. That's why it's one of our favorite pieces to create for our customers.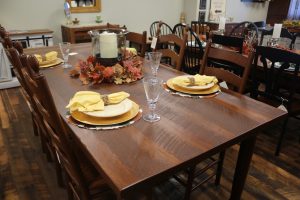 We also create countertops! Instead of granite or marble, try something unique like a gorgeous reclaimed barnwood countertop. That's why our custom kitchens are such a success. We build the perfect pieces to implement into your kitchen remodel. Instead of buying from a large countertop or cabinet retailer, we can offer you something different that will impress your guests when they visit for the holidays.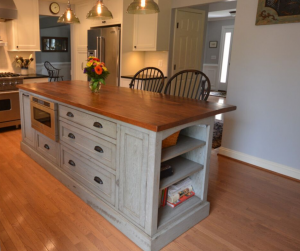 Creating Quality Custom Kitchens
Our quality craftsmanship and commitment to delivering on our word is why many of our clients come back for more. We bring something new to the table (literally) by adding in one-of-a-kind features that you will not find anywhere else. We keep the small splits, knots, and other natural marks that make our products unique.
Shenandoah Kitchen & Home can help you turn your kitchen dreams into a reality. We can design pieces that are full functional and perfect for your beautiful modern farmhouse kitchen. If you're interested in learning more about us, fill out the form below for more information. We carefully select materials that are the best fit for all of our custom kitchens. Give us a call today at 540-751-2163!