One of the most common New Year's traditions involves eating food that will bring luck in the New Year. Why not enjoy this tradition by serving your lucky New Year's meal on a beautiful custom Farmhouse Table from Shenandoah Furniture Gallery? Our tables are richly designed and represent many of the themes for success in the New Year. Here are a few suggestions for your New Year's meal that will bring you prosperity, wealth, and long life!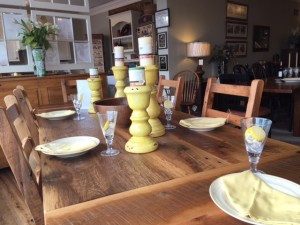 Pork – Tradition states that pigs symbolize progress by rooting forward. The pig uses its snout to push forward, rooting itself in the ground before moving. Pigs are also associated with abundance because they always get plenty to eat. Be sure not to eat chicken or turkey, as they root backward – indicating there may be setbacks and you may have to "scratch" for a living. When serving pork on your custom Farmhouse table, be sure not to limit yourself. Pork meals include pork chops, pork sausage, pork roast, and even baked ham.
Greens and Legumes – Money is the common theme for greens and legumes. Eating these are sure to guarantee a prosperous year. The greens represent dollar bills and legumes coins. Collard greens and black-eyed peas are common in the south and when paired with pork they make up the popular Hoppin' John dish. Cabbage, collards, kale, and chard are common New Year's greens. Legumes may include beans, peas, and lentils.
Fruit – Grapes are often eaten to predict the year ahead. Twelve grapes are consumed, each representing a month in the coming calendar. If a grape is bitter, then watch out for that month! Pomegranates are also popular with their abundance of seeds standing for prosperity.
Cakes – Cakes and other baked items are common from Christmas to New Year's with an emphasis on a round or ring shape for New Year's cakes. The ring shape symbolizes coming full circle. In the south, cornbread is often served in a round cast iron pan. The rich color is supposed to represent gold.
So start your New Year off right with a custom farmhouse table from Shenandoah Furniture Gallery and celebrate with a good luck New Year's meal! Our farmhouse tables are all made with reclaimed wood hand-picked from barns and outbuildings in and around Virginia's Shenandoah Valley. This very special wood gives our tables their strength, enhanced grain, rich color, and uncommon beauty; perfect for serving a very lucky New Year's meal.
Shenandoah Furniture Gallery wishes you a Happy New Year, full of abundance and prosperity! We invite you to come to our location in downtown, historic Purcellville to meet our craftsman and choose the custom farmhouse table that will become part of your New Year's celebrations for years to come.