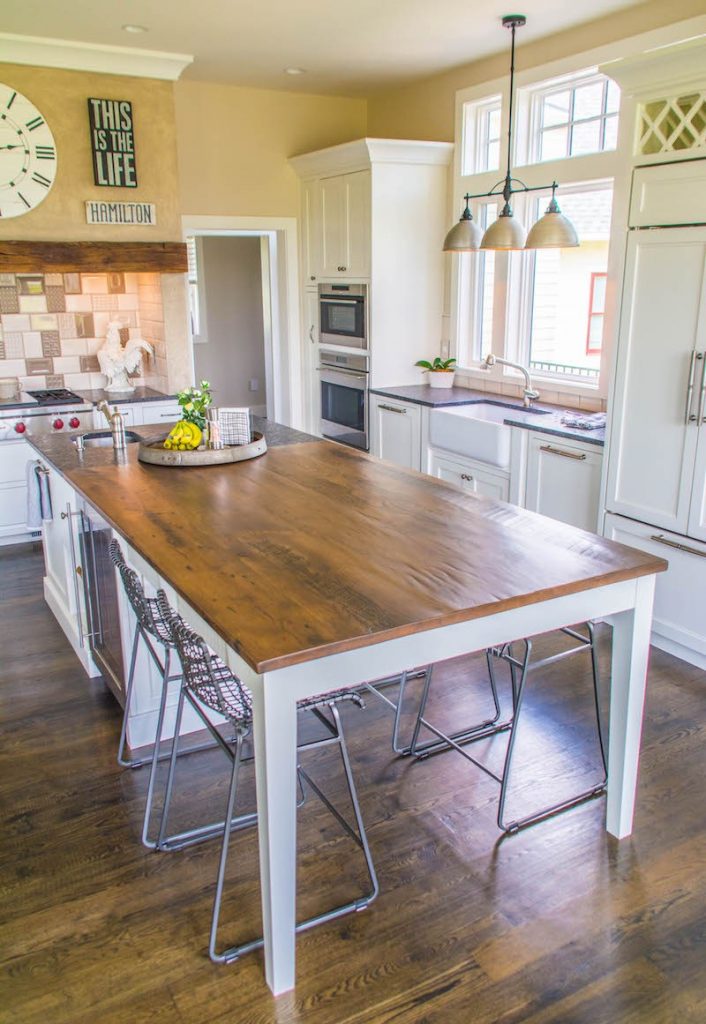 A kitchen without an island is a rare beast these days. The island owes its status in kitchens to its great-grandmother, the colonial keeping room, where the household would gather around the broad kitchen table to cook, eat, talk and tend to schoolwork and handiwork. It provides more countertop space for improved efficiency. Modern conveniences like a sink on the island allow for washup, stowing dirty dishes, and rinsing food.
Five Reasons to Add a Kitchen Island
An island can also bridge the gap between a refrigerator and a cooktop while acting as a food prep space. An island will not just come in handy, it will offer so many benefits that you'll wonder why you didn't do it sooner. In this post, we'll take a look at the top five reasons you should consider installing a kitchen island.
1. Add Work Space
A kitchen island adds more cabinets and countertops to your available workspaces. Think about having that extra room during the holidays. You can have your crock pot and your prep work set up on your island while you use your counters to make desserts, your oven to cook a meal, and your stovetop to make sauces. That additional space will free you up and let you do your cooking without cramping your style.
Note that if your home doesn't have an island and you want one that's set up with electrical outlets, lights, a sink, or cooktop, you'll have to have some renovations done. At Shenandoah Kitchen & Home, we provide expert advice during a consultation in your home or in our new showroom.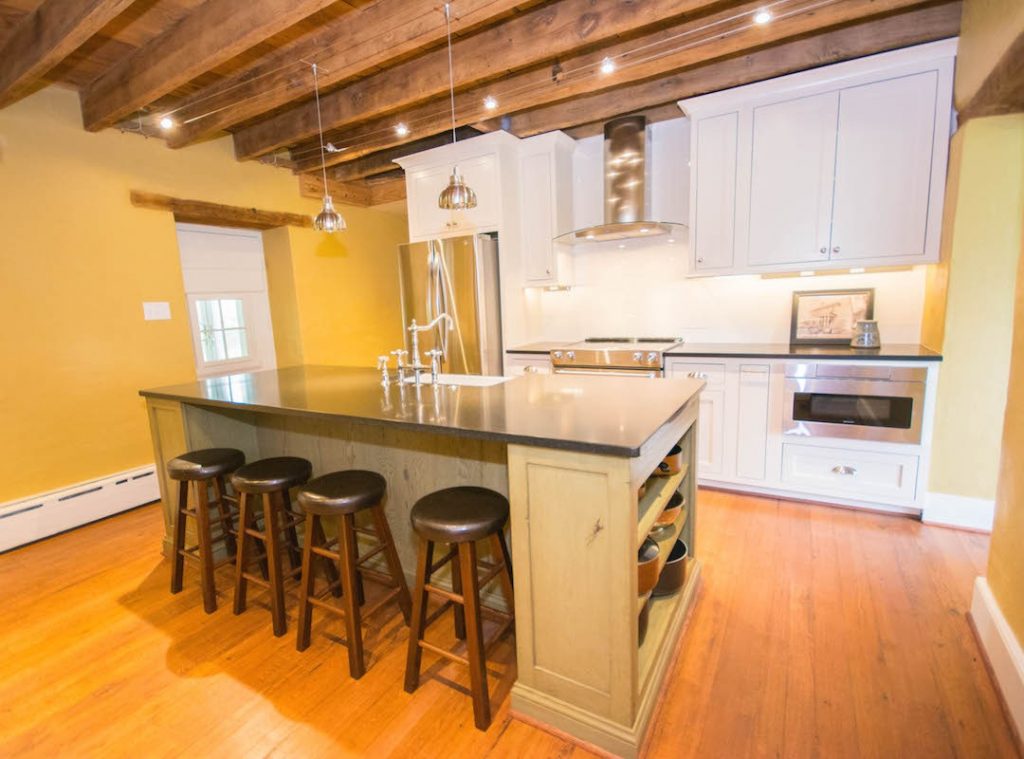 2. More Storage
If you have a busy family or a busy life, you probably need more storage than what's available in your kitchen. That's especially true if you love to cook and you need room for items like your mixer, blender, bread machine, juicer, or the rest of your appliances. A kitchen island provides a handy, attractive place to stash it all away neatly.
You can also use your island to store cookbooks, recipe files, and coupon binders. Keep your shopping lists and appointment books there to keep yourself on track. Use it to organize yourself every day with a charging station where you can fire up your electronic devices, plan your shopping and get your day off to a good start.
3. It Looks Good
A kitchen island is not just functional. It can also be beautiful, with custom wood fittings and a granite, marble or tile top. It's centrally located to make it an eye-catcher with details that reflect your sense of style.
Your design and style options are limitless when it comes to a kitchen island. You can get one that matches the rest of your cabinetry or make it a stand-alone focal point with a style all its own. Whether you like warm, rustic woods, sleek modern lines or a traditional style, you're certain to find the right island. You can then outfit it with your choice of tops and features.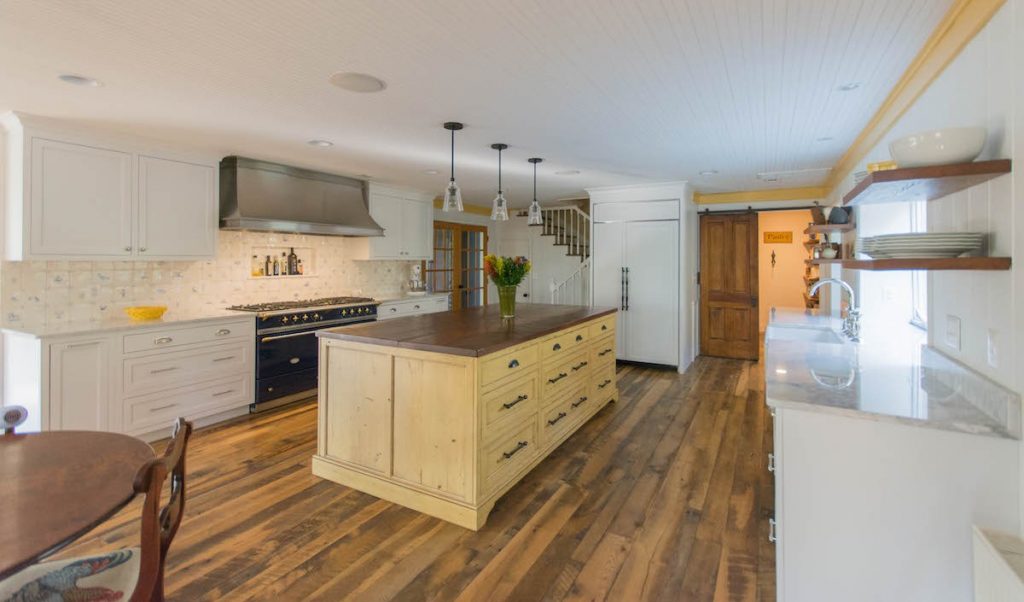 4. Family Hub
In many homes, the kitchen island is the family's central station. It's the hub of action, activity, and planning. You start there with your morning coffee, talk about the day's plans, read the paper and eat breakfast. In the afternoon or evening, it becomes a landing place for papers, books, and the family's cell phones. You can talk to your loved ones while you prepare a meal and talk about your day.
Often, the island is the place where bills get paid, mail gets sorted and the whole family stops by to check-in. Many families place a television near the island. Catch up on the news or your favorite show while you work. A kitchen island is likely to become the heart of your home.
5. More Seating
Any time you need more seating, call your island into action. All you need are some matching bar stools that you can easily stash away when they're not needed.
Today's family and guest dinners are more casual than they were in the past. It's common for guests to eat in the kitchen. Some people actually prefer sitting at an island because of its bar-like feel. A kitchen island makes a great morning coffee bar and a great place to wind down with a drink in the evening.
Call the Kitchen Island Experts
Ready to design your kitchen island? Once you install a kitchen island and see how useful it is, you'll wonder how you ever did without one. At Shenandoah Kitchen & Home, we'll be more than happy to show you all the options available for your new island. Because everything we build is made from scratch, anything is possible!
Call us for an in-home consultation or visit our new showroom in Purcellville. We will make time to sit down in your kitchen with you to discuss your next project one on one.