It's that time of year – school buses, lunch boxes, and homework!  As families prepare for the usual fall tradition of Back to School, parents can help by creating a positive and supportive study environment. What better place than the kitchen?  We all have memories of completing our homework at the kitchen table and discussing the school day while dinner is being prepared.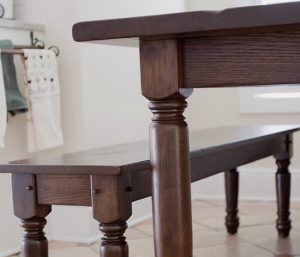 At Shenandoah Furniture Gallery we have designed beautiful reclaimed wood farm tables that will see your family through years and years of homework. Your kitchen farm table is where memories will be made, meals will be shared, loved ones will gather, and children will do their homework. It will bear witness to laughter and tears, hopes and dreams.
Each custom-built farm table begins with the selection of just the right antique barn wood, hand-picked from barns and outbuildings in and around Virginia's Shenandoah Valley and the Blue Ridge Mountains. This very special wood gives our tables their strength, enhanced grain, rich color, and uncommon beauty. Imagine sitting around the farm table discussing the Virginia history that went into it!
We'd love to custom build a table for you – for your memories, for your family, for your legacy. Call us or stop by Shenandoah Furniture Gallery in Loudoun County's historic Purcellville to view our kitchen farm tables and other reclaimed wood furniture.