Do you ever wonder about the spirit and personality of the people living in the Appalachian Mountains? They are people whose very souls are intertwined with the unique environment around them, whose roots in the land in which they have built their lives go back generations. They hold a deep belief in God and are caring and generous towards one another. Often resistant to change, the Appalachian people have a deep mistrust of newcomers and strangers and prefer to maintain their own distinct communities.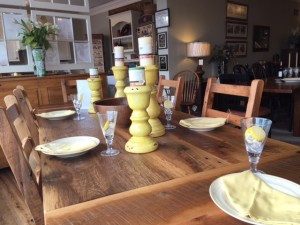 We at Shenandoah Furniture Gallery wish to capture this independent spirit and connection to nature in our reclaimed wood furniture.  Our master craftsmen are proud to present our new line of reclaimed wood furniture, the Appalachian Line. We developed this line to honor and appreciate the uniqueness of this independent and resourceful culture. To accomplish this task, we left as much of the original face on the lumber, with a minimum of milling.
The Appalachian Line, as with all our reclaimed wood furniture, still maintains the same skilled craftsman techniques that our clients expect from Shenandoah Furniture Gallery. The materials used in this new line of furniture, which was once an iconic part of the Appalachian landscape, receive a second chance at life as beautiful pieces of reclaimed wood furniture. This furniture, coming from specially selected barns and outbuildings in the Appalachian mountain area, contains the history and heritage of the strongly independent Appalachian people.
We invite you to visit the Shenandoah Furniture Gallery in downtown, historic Purcellville to meet our craftsman and choose the reclaimed wood furniture that will become part of your conversation.