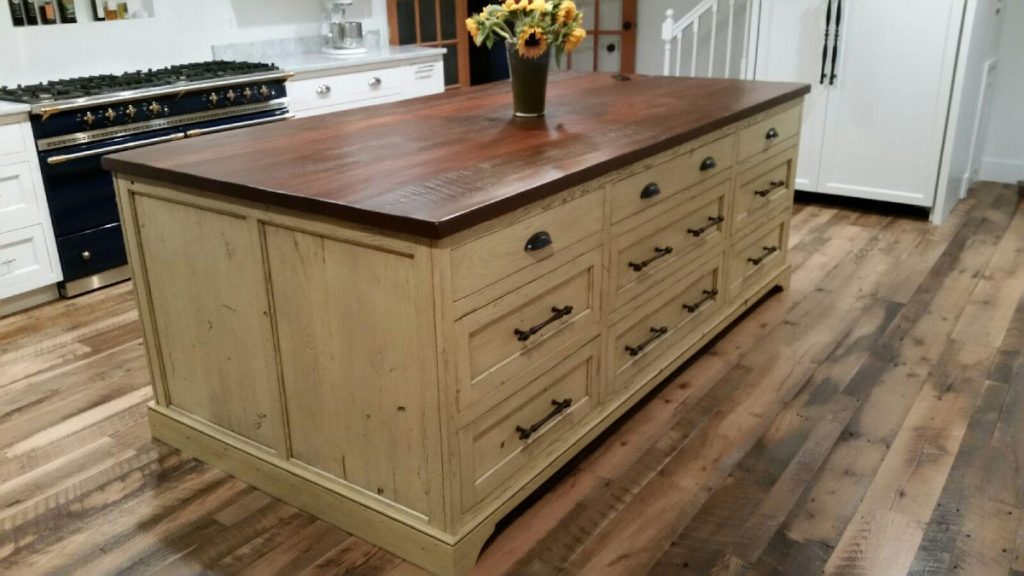 Kitchen Island Designs Made From Reclaimed Wood
A wooden island is often the heart of your kitchen. It's the place where vegetables are chopped, stories are shared, and organizing for the week ahead happens. We can help you create a kitchen island that perfectly meets your needs, style, and budget.
Bring in your measurements and design inspiration today, and we'll help you build your "dream island." We use the same quality reclaimed wood to handcraft your island, as we use in our furniture and cabinetry.
What Are The Important Factors When Designing a Custom Kitchen Island?
Measure Your Space
A functional kitchen island is comfortably positioned in a kitchen, with easy access to appliances and enough space to stand near for a task. Measuring your available space is critical to planning. Regardless of shape, you should allow for a 42" walkway along all sides of your island. If you want to add seating allow an extra 34" to 46" on top of the 42" walkway.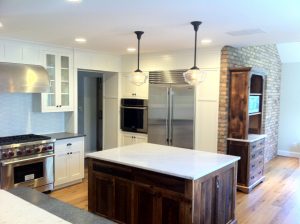 Consider How You Plan to Use Your Kitchen Island
Would your dream kitchen island have a stovetop or sink? What appliances could shorten your workflow and make your kitchen more efficient? Will the island be "hot" (cooktop, oven microwave), "wet" (sink area, dishwasher), or "prep" (bake center, pastry counter)? Or a combination? Electrical outlets should also be considered. More than one kitchen island may be needed in unusually large kitchen spaces.
Plan for Seating
Do you want a single or multi-level kitchen island with seating? The suggested space for seating (including push-back room) ranges from 34" to 46". Two other dimensions to consider at those seats are place setting width and depth. The minimum width is 24" to 30" for place settings and the depth is 14" to 16".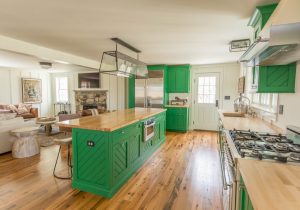 Organize for Storage
Jot down all the items you would like to have close at hand when standing at your kitchen island.
Factor in Style
Do you want your kitchen island to blend seamlessly with the rest of your cabinetry or do you want it to stand out as a focal point? Do you want it to look like furniture or cabinetry?
Pricing a Custom Kitchen Island
The pricing of a kitchen island is affected by the amount of labor required to produce it. A heavily detailed and complex kitchen island takes a tremendous amount of labor to create, compared to a 48" plain wooden island.
Since every island is unique, we will be better able to give you specific pricing after we turn your ideas and needs into a computer-based drawing and determine the extent of labor and materials needed to make your dream kitchen island. Approximate pricing could range from $2,000 to $9,000.
Our kitchen islands are built just like our furniture – heritage pieces for your family, where memories are made.